I did too much in the last four days. Overdoing it is my way of doing what I want, so giving myself a painful muscle spasm is no big deal and not the focus of this post. However, the person who I texted to bail me out is.
Jeanette has received desperate texts from me before. She is my local massage therapist and a person who, by just being Jeanette, reminds me to "get a grip and get grateful." Any time I think of the path Jeanette has taken to work on my old body, I realize that I'm blessed.
A gift massage
I met Jeanette twelve years ago when I used a Costco gift certificate for a massage in the only place that I could find to use it. When I arrived, the spa didn't look much. It was in a white frame building with faux colonial columns, and Grecian-style plastic planters with dying plants framed the front door. Although I thought fried foilage was a lousy omen, I walked in to cash in my gift.
The receptionist, who I later learned was the esthetician/owner, barely looked at me as she chatted about a soap opera on the phone. While I waited, I thought that this was going to be a unique massage experience.
Jeanette was 30-something-years-old with her short, dark hair pulled up in a messy bun. She was average height and on a body chart, she would be described as a classic egg-shape. Not a smooth egg, but a bulgy one with folds that were accented by the ties of an apron that carried the lotion of her trade. She wore threadbare leggings, and her sport shoes didn't seem to have much sole left, but those weren't the only reasons I suspected that there were hardships in her life.
It was the scent that wafted from her clothes as she walked.
Jeanette had the musty smell of someone living with too many people who were smoking whatever. It was an odor I knew from a research project in graduate school where I interviewed poor women who were struggling to care for children who had disabilities. To conduct those interviews thirty years ago, I went from marginal apartments to the chaos of shared housing. I quickly realized that poverty has a smell that comes from a smoky environment, too many people camped together, or difficult access to laundry. No matter how much a person bathes, if she has to put on clothes stored in that haze, the odor will travel gently with her.
Back when I listened to the women's stories of subsistence and struggle, I became utterly grateful for my life. And right then, my circumstances seemed pretty darn crappy. I decided that in the future, I would never judge a person by the aroma that surrounded her.
Even if she was about to work on my body in a small enclosed room.
A change of heart
I had three massages with my gift certificate. As I lay on the table waiting for my rub down, I decided that since the distressed ambiance bothered me, two of them could go to waste.
And then, Jeanette started working on my body. This was not a massage for sissies, not for relaxation, and not for laying around passively. When she figured out I was training for my first running race ever, she analyzed what had been bugging me and made me an active participant in table stretches as she dug in.
Hot yoga with a master guru would not have given me better results.
Rotting chaos
Usually, I enjoy a massage in silence. But my field of study was the development of children in poverty, and I had so many questions about Jeanette that I tried to get her to talk.
Jeanette was a mother of two young children. Her husband was an alcoholic as were her twin sister and the sister's current boyfriend. All of them lived in a turn-of-last-century frame house that Jeanette inherited from a father she cared for before he died. It had no central heating, no insulation, one bathroom, and one wood stove.
It was a stinking, rotting, fire trap.
Now that house would be enough to explain the "poverty" odor, but there were other people living there as well. The sister's teenage son, his older girlfriend, their infant daughter, and her teenage daughter were camping inside. Jeanette's mother and her boyfriend lived in a camper in the backyard, but since it was unheated and the only bathroom was in the house, they were inside as needed. Any clothes stored in that house would emit an odor, no matter how scrubbed the owner might be.
Jeanette had little patience for the hangers-on who took over her house. She worried about her nephew's baby, but otherwise, none of them got her sympathy. But as is often the case for a person trying to escape poverty, Jeanette felt powerless to cut off the squatters without legal help that she couldn't afford.
An interesting career path
Jeanette had been a massage therapist for only a year when I first met her. For a decade earlier she worked at a local diaper factory until it closed. Then she stocked Walmart's shelves at night, took out student loans, and juggled her children and the difficult people in her life to go to massage school.
In school, she was told she was gifted at her new profession, but somehow she knew that before she scraped and struggled to get herself there.
In my first session, I knew Jeanette was a muscle-whisperer, and after my massage in the distressed spa with the disinterested owner, I gave her my business card and told her to call me if the place ever closed. I wasn't the only one who read the tea leaves and did the same. I doubt that any client felt like they were a customer of that spa, but many who stumbled into the door with their certificates wanted to keep hold of Jeanette.
After the spa closed, it took a while to hear from Jeanette while she cobbled together enough money to buy a used portable massage table. Then for a while, I got my massages in my home on a creaky table with clean sheets that never smelled fresh.
Then a huge change
Jeanette got a job in a respectable spa next to a large national fitness facility, and quickly some of the trainers made her a favorite for referrals. She had the highest "repeat customer rate" and became the lead therapist. But she never felt comfortable with those responsibilities, like evaluating her peers, so she went to a more therapeutic spa where she thrived.
Jeanette earned enough to take her kids and move out of her house and into an apartment. She made new friends and took Zumba classes to have fun and get fit. She got new tattoos with positive affirmations on her arms and tried out blond hair.
A milestone was her purchase of a used minivan that was newer than any car she'd owned before. It allowed her to take her children and others on a few trips to see relatives out of town.
The husband she couldn't afford to divorce decided to try and get his life together, and he moved to be near relatives and work in Texas. With a good car and a girlfriend to tag-team on driving, Jeanette could make an adventure of taking her children to visit their dad.
When her Mom's boyfriend died, Jeanette took her family and his remains to Montana where his tribe gave him a proper burial. They stayed in a motel and saw sights as they traveled and enjoyed a regular vacation.
During the past three years, Jeanette became a widow when her husband died of a heart attack just as he seemed to be getting his life together. Later, she managed to sell her house for the price of the land less the cost of demolition. So not much. She shared the proceeds with her sister in hopes it would give her a boost. And it has. She is sober, has a new husband, and is about to obtain her high school diploma.
A little financial edge and sister who is a role model can make a big difference in a poor woman's life.
Jeanette managed a downpayment for the little three-bedroom house pictured above. She was willing to sacrifice size to get a well-maintained home with gentrified comforts like central air. It has a two-car garage and two-car carport on a back alley, so her stuff will always be locked and her yard uncluttered.
It is a dramatic change from the miserable dump with wrecked cars, a camper, and piles of debris that screamed "shit-hole" to anyone who rolled their eyes and hurried past her former home.
A new brother
This background brings me back to my massage yesterday on a solid padded table. Everything was clean, but now it also smelled bright and fresh. Jeanette had a bouncy step and talked about dancing as she showed off the figure being carved into her middle.
As she started the massage, I didn't have to pry to hear about recent developments in her life. "I got to meet my older brother and his significant other this weekend. Pretty cool. I had a party at my house for the meeting."
"Older brother? I don't remember that you had one."
"I didn't know I had one until his girlfriend had him take a sample for 23andMe and then hire a researcher to follow up."
"How is he your brother?"
"It turns out that my mom and her twin sister got pregnant when they were teenagers by the same guy. My mom and my aunt both had children a couple of days apart, but their folks didn't want anything to do with raising babies, so they put them up for adoption."
"How much older is your brother than you?"
"One year."
"And you didn't have any idea about him?"
Then I also heard about twin younger brothers who she saw for the last time when they were six.
I asked, "Let me get this straight. Your Mom was a twin, and she had five kids from three pregnancies with three different fathers?"
"Yep. And she only raised four of us, if you can call what she did 'raising.' She was in prison for two years, and we were in foster care when my dad got custody of my sister and me. Then my younger brothers got put up for adoption. "
"I'll bet there were some pretty unsavory characters around when your mom did have custody."
"Oh yeah, there were some real creeps who messed with my sister and me. It was better to be in foster care."
Then I remembered that her mom moved with Jeanette into the small  house she now owns, so I asked, "Is your Mom still living with you?"
"Oh yes. They said it would take about 18 months for her to get into senior housing. That's up in June, so I'm hoping."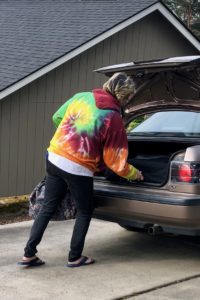 "Are you still sleeping on the couch?"
"Yes because I want the kids and Mom to have their own rooms."
"Do you even like your mom?"
"Nope. But I feel responsible for her. She does have a little income from Social Security, and one of her husbands was a veteran, so she gets a little pension from him. But, I still need to help. Not everyone gets to like their parents, and frankly, she drives me crazy. But she is living by house rules, so she can stay for now."
Dreams
Jeanette has dreams for life when her children become adults. She plans to get a camper, advertise as a horse therapist who can do the owners too, and follow rodeos. It will be hard work, but that minivan has given her a taste for traveling the west, and she is planning more adventures.
A couple of months back, Jeanette quit her spa job and now she only has home clients. She needed to be home with her kids after school to help with schoolwork, take them to counseling appointments, and keep them safe. They are teens who have predictable challenges for kids who developed in chaos among belittling squatters.
Then, just when they hoped that their parents could be together again, their dad died.
Jeanette's attitude is, "I'm going to do my best by them for now, but when they become adults, it is going to be on them."
She continued, "I got my tax refund yesterday, and I'm going to use it to get a business license so that I can rent a room for massages on my schedule. I'm also going to sign up for my online animal massage class. I don't know how I'm going to do the five-day practical experience yet, but I'll deal with that when I get there."
Moving forward
Jeanette is planning to travel forward, while I want to get comfortable with looking back. As I try to write, I don't ever want to forget Jeanette and how terrific my life has been in comparison to hers and millions of women like her.
When a disaster happens, most of the people I know have safety nets from our education, savings, or relatives. And as bad as it got for me, I always had one or more of those advantages. Whatever I may have to complain about in my life, I will never have to experience the hardscrabble misery of women like Jeanette who scramble, churn, and claw below the poverty line to try and make a future for their children.
Knowing and admiring Jeanette has been good for my body and my soul. When she starts chasing rodeos, I'll think of her and always be grateful that she is one of the blessings that helped me to where I am today.