A frozen waterfall hike
The "naked lady hike" took place earlier this month when I was with ten other members of the TrailGalz¹ hiking group I was lucky enough to join six years ago. We were not the ones who were naked in this story. The weather was cold, so we were bundled up and hiked in microspikes to savor a winter wonderland that was hanging on into March. As we approached the spectacular Tamanawas Falls, we noticed a woman and a man clearing snow and forming a bench where they could take photos. They had the best angle of the falls, so we hiked up behind the water, and as we took our shots through icicles that reflected the sky and water, we celebrated an awesome day.
The naked lady
When we returned from the cavern beneath the falls, the couple was finished fashioning their prime spot for a photo. And then, as most of us glanced and then stared in amazement, the woman started taking off her clothes, and sat down on the icy bench and lifted a drink to her lips.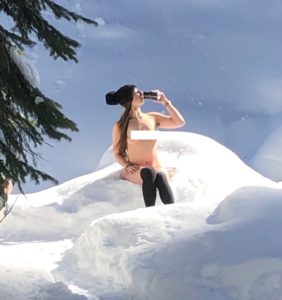 There were comments from my hiking group like, "What is she drinking?"
"Antifreeze!"
Someone hollered, "Do you mind if we take a picture?" even though we knew this was a woman who would not mind.
One of us observed, "Gonzo armpits but a bikini wax?"
"Yep, times change!"
"They didn't need to change for the Italians."
"Ahhh, to be young."
"I was young once, and I would never have done that. Brrrrr!"
We took a few photos to share with the story when we got home, and then the first part of our group continued the hike.
Group photo op
The TrailGalz group behind me was also taking pictures and snapping comments. Then our leader called out to the naked lady, "Do you mind taking a photo with us?" The plan was to place the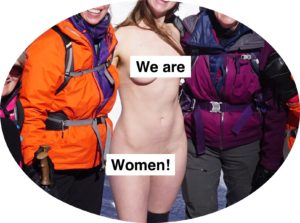 photo, with her ready permission, on the private TrailGalz Facebook page with flip comments about a new requirement to qualify for the group. To respond, the young woman happily scampered up to join the group.
In the photo, all six women had on boots, hats, and sunglasses but otherwise, the youngest woman was a stark standout. After taking a few photos, the older ladies thanked her before the naked lady scurried away into TrailGalz lore. However, none of our undoctored images got posted on the group Facebook page because one sane spouse suggested that our group might get banned if a full photo was displayed.
You go girl!
The invitation to join TrailGalz in group pose was set-up for a gag, but it was also a way for the middle-aged and older women to say, "You go girl! Be yourself and shine!" TrailGalz is a group that celebrates women and the out-of-doors; young or old; clothed or naked; straight or gay. And relevant to me, stuff together or screwed up and trying to figure life out. Inclusiveness and respect are group values.
I lucked out when I stumbled onto TrailGalz, and similarly, I made an incredibly supportive connection in my first writing class when I met my friend, Donna. But, there will come a day when I'll fizzle and not be to do as many hikes or if Donna moves.
Social connections will continue to change for me and others of us who start working on them when we are older. Health declines, people move to be nearer family, and smaller homes beckon. I only know that regardless of the social direction my life takes, I'll have to move on from those who don't embrace me with a warmth that says, "You go old girl! Be yourself and shine!"
¹TrailGalz is a fictitious name for a group of very real women.